Our Youth Are Our Church

Visions - 6th -8th Grade
A combination of faith, fellowship, service, and fun into an insightful evening involving the youth of St Jude Parish. It is an approach used in many parishes to combine Youth Ministry for all rising 6th and 8th Graders in our Parish Community.
There will also be optional activities /retreats/lock-ins/service projects etc that may meet at other times and will be announced in advance.
The older students in our parish yearn for a more interactive and engaging way to learn about and put into practice their faith. Those involved in youth ministry desire to interact with all junior high youth of our parish. Students in our parish education program want more fellowship and fun-filled activities as well as service opportunities.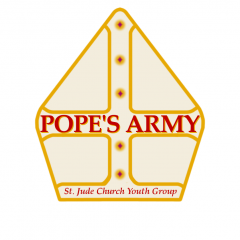 Pope's Army - 9th - 12th Grade
Come, join us for fellowship and fun Sunday 6:30pm to 8:30pm every Sunday. This peer-led group aims to create faith-based friendships and the opportunity to begin learning and working towards becoming leaders in our Parish. There is a lot of fun and games as well as prayer, examining the Gospel, and a look to refocus on God. We meet in the youth room (below Parish Offices) All High School youth are welcome!
For those wanting to go deeper into their faith, we have discipleship group that meets after youth group on Sundays 8:00pm to 9:00pm. This group focuses on many topics, current events and how we actually live out our faith. All are welcome to join.
The registration form for both groups may be accessed HERE. Forms should be returned to the parish office or to Youth Minister, Irene Scoggins, irenescoggins@gmail.com.